Goats!!
(Cheva & Frack)
Hello. My name is Cheva. My name is Spanish for female goat. I am the brown and white Neubian goat mix here at Windy Hill Ranch. My friend is Frack. He is a Pygmy goat mix. Together, we make the comical team of the ranch. I love to run and play. My favorite thing is to run around the pasture and hop on all the logs. Sometimes I like to try playing with the pot-belly pigs, but they don't like that very much. I love getting into trouble and when no one is looking I like to sneak into the vegetable garden and steal a treat. Sometimes I try to play with Frack, but he doesn't always want to play with me. I think maybe it is because we are different. You see, I am a Neubian mix and Neubian goats have very long, slender legs. I don't have any horns like Frack, so instead of butting heads with him to play. I like to run circles around him and try to make him chase me. Because I have such long legs, I can run much faster than he can and I can jump all over the place. I think my balance is much better than his. I can stand on a small ledge and not fall off.

That's one of the good things about being a goat, we have two toes on each foot and they are like having suction cups. It keeps us from falling off of high places. Well, that's one thing Frack and I have in common, but let's see, there are more things we have in common. Frack and I are both ruminants. That means we have a 4 part stomach and we chew our cud just like a cow does. Frack and I both like to eat and we will eat almost any plant we can find. We are very curious animals and we both want to investigate anything we find unusual or exciting. More often than not, this gets us into trouble! Hmmm. now that I think about it, even though Frack and I look different, we have a lot of things in common. I guess I could say he is a pretty cool buck! Oh yes, I forgot to tell you. A buck is a boy goat and a doe is a girl goat. I am a doe and Frack is a buck. Pretty cool, huh? Just like deer.

It's fun being a goat!!
|
|
|
|
|
|
|
|
|
|
|
Question: What kind of goat is Cheva?

A = Pygmy
B = Andalusian
C = Neubian

[see bottom of page to see if you were right].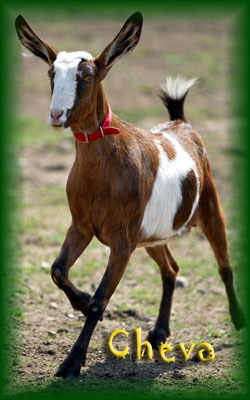 FUN Animal Fact: Did you know ...
A female goat, or doe, can also be called a "nanny goat".
A male goat, or buck, can also be called a "billy goat".
Answer: If you said "C", you are correct!

Cheva is a Neubian mix... and Frack is a Pygmy mix.