Miniature Cattle
(Autumn Joy, Lucy, Norman, Fuzzy)
Hello my name is Lucy. I was named after the famous redhead in the "I Love Lucy" t.v. show. Having red hair makes me pretty special, as most *Kentshire® cattle are black. My best friends are Autumn Joy, a Miniature *Panda® Cow, Norman, a *Kingshire® bull and our very own Scottish Highlander, Fuzzy. We are just 4 of 21 breeds of miniature cattle. Autumn Joy and I are both called heifers, but one day we will be called cows. Do you know why? It's because one day we will have babies and that will make us cows." Norman is a miniature bull that was actually raised on goat's milk as his mother died when he was just two days old. Fuzzy is easy to pick out in a crowd because he is very, very fuzzy.

Did you know that both boy and girl cattle can have horns? Some of us are born with them and some are not.

I'm sure some of you are asking, "Why have miniature cows?" Believe it or not all breeds of cattle used to be small like me. Over the years people, who believed bigger is better, bred them to be bigger and bigger. But I like to believe some of the best things in the world come in small packages. Miniature cows are a lot of fun because of our small size. Kids love to play with us because we're more their size. We are especially ideal for the smaller farms, because you don't need as much grazing land for us. Some of us produce milk as well.

Have you heard that cows have four stomachs? Well, that's not true. Actually cows have a stomach that's divided into four sections. Each section does a specific job to aid in digestion. This means we are ruminants and we chew our cud. My favorite thing is to lay down next to Autumn Joy (she's my best friend by the way) and chew my cud while enjoying her company. Did you know that we only have teeth on the bottom? It gives us a very silly smile. But the truth is, many ruminants are the same, including the camel, alpacas, and goats to name a few.
|
|
|
|
|
|
|
|
|
|
|
Question: True or False... A cow is called a cow only after she has had her first baby?

A = True
B = False

[see bottom of page to see if you were right].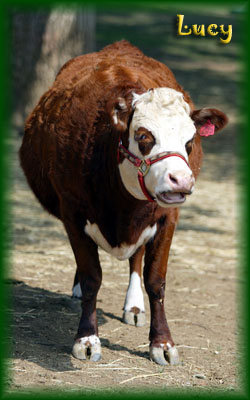 Go To "Gallery" to read more about Lucy - Above
\/\/\/\/\/\/\/\/\/\/\/\/\/\/\/\/\/\/\/\/\/\/\/\/\/\/\/\/\/\/\/\/\/\/\/\/\/\/\/\/\/\

FUN Animal Fact: Did you know ...

It is believed that a cow thinks in pictures and not words. They worry about abrupt motion, high-pitched noises, disturbances of the dirt, a shiny reflection, or anything that would appear out of place.

Go To "Gallery" to read more about Joy - Above

\/\/\/\/\/\/\/\/\/\/\/\/\/\/\/\/\/\/\/\/\/\/\/\/\/\/\/\/\/\/\/\/\/\/\/\/\/\/\/\/\/\

Go To "Gallery" to read more about Fuzzy - Above

\/\/\/\/\/\/\/\/\/\/\/\/\/\/\/\/\/\/\/\/\/\/\/\/\/\/\/\/\/\/\/\/\/\/\/\/\/\/\/\/\/\


Answer: If you said "A"... True, you are right! ...

Until she has had her first baby, a cow is called a heifer.